In May of 2019, Carol Amaya earned her Master's of Arts in Teaching (MAT) from Brown and processed through the Van Wickle Gates. But as others in her cohort prepared to leave Providence for opportunities elsewhere, Amaya stayed put.
During her year of teaching local teens at Brown Summer High School (BSHS) and within Providence Public Schools — part of every MAT student's experience — Amaya found inspiration in the hope and activism of the city's students.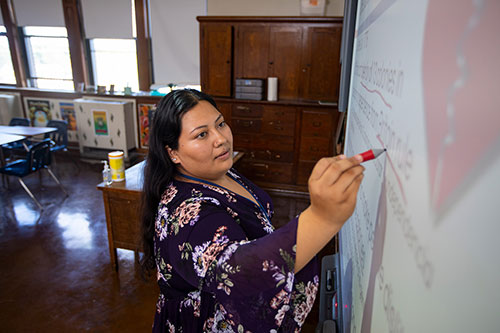 "The youth here in Providence are so involved and really, really, really cool," she said. "Students are fighting for change in their own schools right alongside their teachers. I feel lucky that I'm able to stay here and work with young people who are so motivated to do social justice-oriented work in their own communities."
Following a second summer at BSHS — this time, she was a principal advising incoming MAT student teachers — Amaya accepted a history teaching position at Mount Pleasant High School, just three miles away from Brown. She says landing the job was a dream come true.
"I really love teaching," Amaya said. "I always come out of the classroom feeling renewed and with more new ideas than ever."
It wasn't until her junior year at the University of California-Santa Cruz that Amaya seriously considered becoming a teacher. As she was working toward dual degrees in sociology and Latin American and Latino/a studies, she discovered a few education courses that opened her eyes to the issue of systemic educational inequality. A native of Stockton, California, Amaya had attended a high school where more than half of students were from low-income families and less than a third tested proficient in English and math — and for the first time, she realized her own childhood educational experience wasn't unique. 
"I learned that this isn't just happening in California — it's happening everywhere," Amaya said. "I got a feel for some of the more direct ways to enact change and support underserved students in the classroom."
With help from the Institute for the Recruitment of Teachers, a national organization that assists students of color as they search for and apply to teaching programs, Amaya determined she wanted to pursue a master's degree program where  academics and experiences are focused on teaching bilingual students in urban settings. She was pleasantly surprised to receive an acceptance letter from Brown — and to join a cohort almost entirely made up of first-generation, low-income students of color. 
"The opportunity to get to be in a cohort like this at the Ivy League level — that's very rare," she said. "Between the other students, the University mission statement and the program director, who had experience teaching in Oakland Public Schools, I was convinced Brown was the place where I would be best supported."
Amaya believes she couldn't have landed the job at Mount Pleasant without the personalized mentoring and top-notch academic preparation she received from Brown.
"I think the MAT program does a great job of keeping the cohort small and diverse," Amaya said. "You learn almost one on one, which was very beneficial for me, especially when it came to teaching. [The program director] was able to observe me in the classroom more often and give me honest and constructive feedback."
Amaya spent her MAT year teaching history at Jorge Alvarez High School, where she taught using a social justice-oriented framework. To better engage her students, Amaya drew connections between centuries-old occurrences and modern history. Rather than focusing solely on the Great Puritan Migration, for example, Amaya asked students to compare New England's early migration history with their own parents' migration. Like Amaya, many of the students at Alvarez had parents who had fled to the U.S. during the civil war in El Salvador.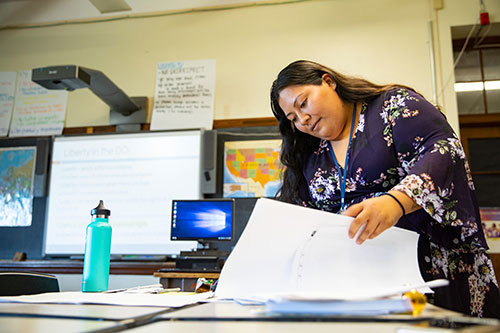 "I always try to make history real for them by identifying related things that have happened in their own lives or are happening in the world right now," she said. "Some of my students have done projects on gun violence and police brutality, and I ask them to connect those topics to their lived realities."
But Amaya's teaching doesn't stop there: Once her students have used history lessons to identify issues of inequality or unfairness, she asks them to identify ways in which they can help. When one of Amaya's students learned about his school's high dropout rates as he worked on a report, Amaya asked him what he could do to advocate for better teaching and facilities. 
"As someone who went to public schools that weren't well supported or well funded, I'm passionate about helping students find solutions," she said. "As a student-teacher at Brown, you're not just going into a community and extracting knowledge. Brown's program encourages you to become truly engaged with the community."
Amaya said she's grateful that the importance of community engagement was constantly impressed upon her. She believes it will prepare her well for the rewarding challenge of teaching in urban schools.
"This program taught me the benefits of spending time with others and building relationships with everyone you work with — your peers, your students, your directors," she said. "That will always support and sustain you at the end of the day."